A time to dare to hope
Participants gather for LWF Youth Pre-Assembly in Wisła Malinka, Poland. LWF member church representatives reflect on Thirteenth assembly theme, intercultural communication and youth priorities.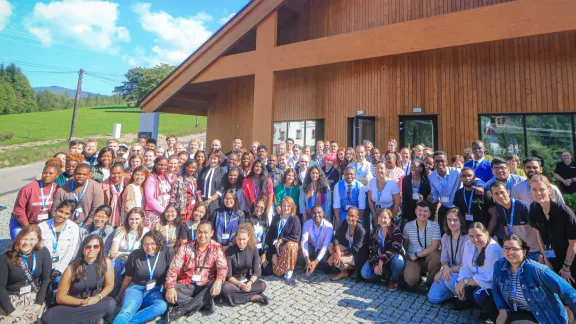 Over 100 participants gather for LWF Youth Pre-Assembly  
(LWI) – The Lutheran World Federation (LWF) Youth Pre-Assembly kicked off today with a festive eucharistic worship in the Wisła Malinka parish of the Evangelical Church of the Augsburg Confession in Poland (ECACP).  
More than 100 participants from all regions of the Lutheran communion are gathered, 7-11 September, to prepare youth contribution to the Thirteenth Assembly in Krakow next week.  
The sermon on the assembly theme, "One Body, One Spirit, One Hope," was presented by three participants. Reflecting on "One Body," Kathrine Pico, Evangelical Lutheran Church of Colombia, noted that while representing different countries and nationalities, "we still complete each other because of our diversity." She reminded youth they "are equally worthy and play an important role in the body of Christ and his church."  
On unity in "One Spirit," Rev. Kagiso Harry Morudu, Evangelical Lutheran Church in Southern Africa, likened the distinct priorities and contexts of all LWF's regions to different sections of an orchestra, "each playing its part in creating a beautiful melody." It is not about being the same, he said, but about the "willingness to play our parts, guided by the Spirit."   
Reflecting on "One Hope," Rev. Veronica Pålsson, Church of Sweden, encouraged fellow youth to "dare to believe in the future and dare to hope." Amid several global challenges including polarization, wars, increased poverty and inequality, and repression of human rights young people are called to be a people "who embody and spread hope in both words and actions."  
The service concluded with Holy Communion, co-presided by Rev. Pålsson and Rev. Sally Azar, Evangelical Lutheran Church in Jordan and the Holy Land, with other youth assisting with the distribution.    
LWF General Secretary Rev. Dr Anne Burghardt addressed the participants in one of the afternoon sessions. She thanked youth for their contribution, including leadership of small projects that have significant impact in the church and community. She encouraged them to use opportunities such as the Peace Messengers program and climate justice advocacy "to reflect together with youth from other parts of the world on how to renew your church."  
The sessions proceeded with group work on intercultural communication, and presentations and discussion on priorities identified by youth from their respective regions. These topics will contribute to developing the Youth Pre-Assembly Message to be presented to the Thirteenth Assembly next week.